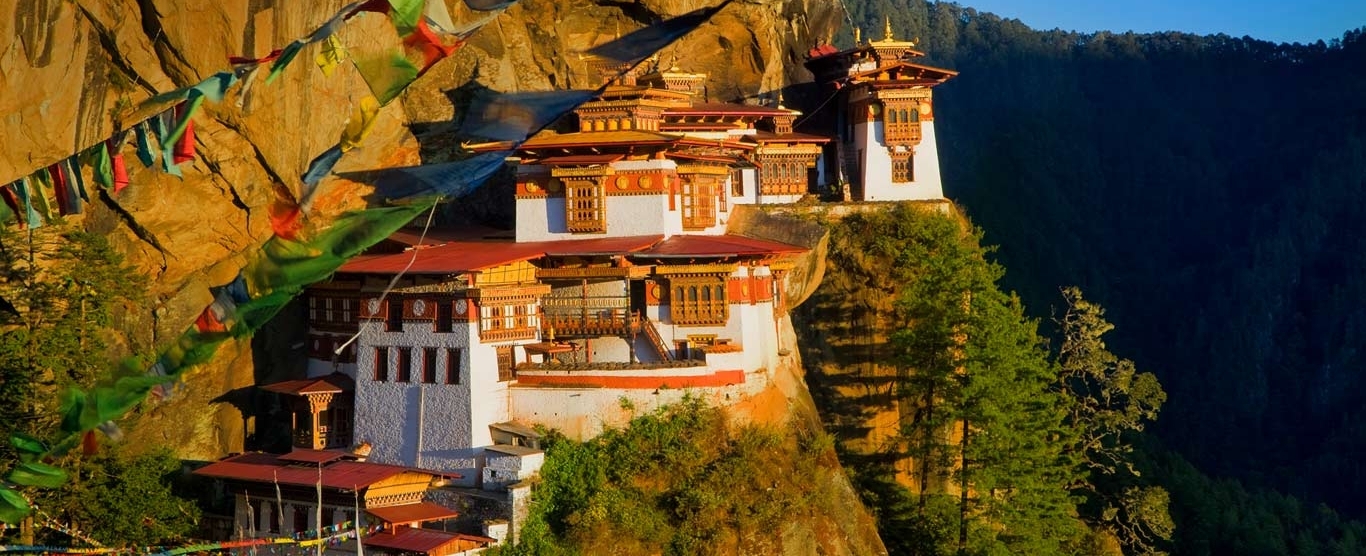 Paro
Home / DESTINATIONS / WESTERN BHUTAN / Paro
---
The beautiful Paro Valley is the entry point for visitors who arrive at Paro Airport by Bhutan's national carrier, Druk Air. Paro is situated at an attitude of 2,280 metres above sea-level.
The most important and spectacular Tsechu in Bhutan is Paro Tsechu, which is usually held at the beginning of each spring. This festival draws a lot of tourists to visit Paro during this period mainly due to the 800 years old Throngdel of Guru Padmasambhava, which is only reveal once in a year before dawn.
The most famous landmark and sacred site in Paro Valley is Taktsang Monastery, (also known as Tiger's Nest). According to legends, it is believed that Guru Padmasambhava landed at this site on the back of a tigress where he mediated for 3 months in the 8th century. Taktsang Monastery was first built on this precipitous cliff at 3,120 metres above Paro Valley in 1692. Hiking up to the Monastery will take a lot of efforts, energy and courage. One will not only enjoy the beautiful scenery of Paro Valley, but will also have a chance to pray for blessings from Guru Padmasambhava.
Other places to visit include : condyline.
Paro Dzong – the administrative office in Paro. Scenes from the movie Little Buddha were filmed in and around this Dzong.
Drukgyel Dzong – built in 1646 by Shabdrung Ngawang Namgyal to commemorate his victory over the Tibetan invaders.
Kyichu Lhakhang – the oldest and sacred shrine built in 659 AD by the King Songtsen Gampo of Tibet. It is one of the 108 such Monasteries which he built in various places. This monastery is one of the holiest places in Bhutan as it marks the advent of Buddhism in Bhutan.
Dumtse Lhakhang, which is built by Thangtong Gyalop, the iron bridge builder, in 1433. Till now, the iron bridge he built still serves as the bridge to the temple. The temple consists of 3 floors, representing hell, earth and heaven. The old wall paintings inside are said to be one of the finest in Bhutan.
Dungtse Lhakhang – built in 1433 by the iron bridge builder, Thangtong Gyalpo.